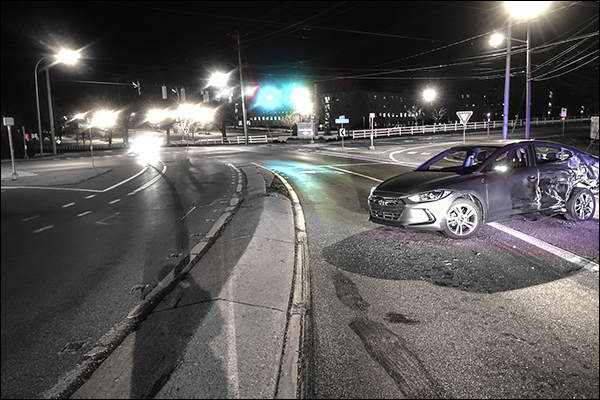 After a evening of dancing an automobile accident ended the night.
Everyone walked away but it was definitely a close call for all involved. Two vehicles had to be towed from the scene.
A guy in a pickup truck , upset about an argument with girlfriend, left a local bar. He was in left side of road and had just past the traffic light before the collision. My friends were in the car slowing down to make a left-hand turn, once the light changed. We were following them home to spend the night before continuing on to New Jersey for a wedding anniversary the next day. The truck is going so fast that the driver hits the the center divider and his front end goes airborne. Looking at the picture, you can see his skid marks coming over on our side of the road. As his truck is beginning to land on our side of the street he hits our friends on the driver side of their car. That collision destroys the back end of the sedan. His front left wheel was detached from the truck.
My wife and I were far enough behind our friends that his truck passed in front of us and came to rest on the right behind us. I think that his speed was so fast that once he hit the first vehicle, that collision changed his direction. Our friends car was spun around and his truck spun a little more to the his left. It was just enough to change his trajectory to avoid hitting us.
Our friends were shaken up and rightfully so. We were shaken up and so was the other guy. He realized he was at fault and was running around checking that everyone was OK. He had been drinking but wasn't legally drunk, as a test by police would show.
It was only a matter of inches that none of us died that night. My friends car only had broken glass in rear of vehicle. Their airbags didn't even go off. Had they been 12 inches back, his truck would have done so much more damage. Had they been 12 inches farther up, he would have done damage to our vehicle.
It was a close call.
Through all of it, tempers didn't flare. We tried to talk our friends into being checked out at a local hospital, but they just wanted to go home. So we spent the rest of the night at their home and continued to Jersey the next day. We had a great time at the anniversary and our friends went out driving somewhere today. They're back on the road 🙂