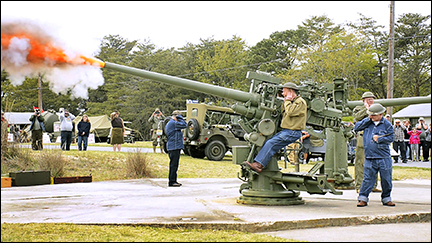 Today, was Delaware Defense Day 2022.
The largest annual event at Fort Miles in Lewes DE returned to its traditional fourth Saturday in April. This year it was held from 10:00 am – 4:00 pm on April 23rd.
Featured were World War II re-enactors, who brought vintage equipment and vehicles to Fort Miles.  An M-14 battle tank rolled in this year!  Folks were able to see black powder artillery firings and the surrender of a U-Boat crew, which occurred at Fort Miles in May 1945.
Planning allowed me to obtain the above shot easier than I could have even imagined when I was paid to doing something like this.
My plan was to use my trusty 15 year old Nikon D7000 camera and take video when the artillery was being fired. Once I captured a little video I would take a freeze frame of the moment I could see fire coming out the artillery barrel. I used Adobe Elements get the freeze frame.
Another part of planning was to ask one of the artillery crew was there a countdown before the gun was fired. He told me yes but to keep my eye on the guy with a lanyard attached to the gun. That's what fired the device( a black powder charge with without a projectile.)
One needs to know what's going to happen to get a picture of whatever does happen. If not, more than likely, you'll watch it happen with the paper weight of a camera in your hands.
So I've found another way to get a still photograph of some very quick action. And didn't need a new $6,500 Nikon which can capture 50 still frames per second for a short duration. The camera can also shoot video at 60 frames a second for a much longer duration.
I'm retired, I can't afford a new camera 🙂