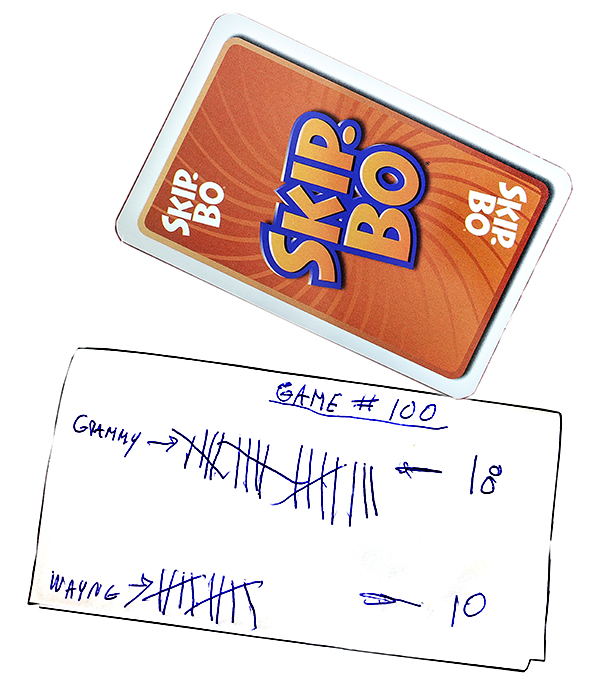 After seeing how she kept winning someone needed to figure out why. Somebody picked me. So, I took to counting how many wild cards we were handed during a card game called Skip-Bo. We, being my 94 year-old mother-in-law and myself. She doesn't get around much physically now but she's very alert. She's a force to reckoned with at the card table. Once this COVID-19 thing is over and with her luck I should give here $1,000 and a trip to Vegas.
She has to be the Skip-Bo queen of the family and is very hard to beat. She seems to win because she gets most of the wild cards or Skip-Bo's. I decided to test my theory by writing down all our games results. After each game, I wrote down how many Skip-Bo we both used during the game. I also noted the winner of that game. Having access to a MySql database would allow me to "analyze" the data later. Also, it gave me a chance to write some mysql queries.
SELECT SUM(grammy) FROM `skipbo` WHERE grammy > 0
DRUM ROLL !!!
As of July 21, 2020
We've played 100 games

Grammy had a total of 1,762 SKIP-BO's
I had a total of 1,423 SKIP-BO's
Grammy had 54 wins
I had 46 wins
Grammy record number of SKIP-BO's for any one game 34
I record number of SKIP-BO's for any one game 24
Bottom Line Grammy has had 24% more SKIP-BO's than me but only 17% more wins. When we first started playing I understood this game was as many games, card games especially, winning is determined by skill and luck. With two evenly matched competitors luck will determine the winner. She has won with fewer Skip-Bo's during a game and so have I. But when I look back through 100 game, it's usually the person with the most Skip-Bo's who keeps coming out on top.